MANY USES OF RETAINING WALLS
Retaining walls can be used in various ways around your home. Safari Lawn and Landscape is capable of multiple kinds of installations. Retaining walls can be used to level a yard, hold up a driveway or patio, or as a raised planter.
At Safari Lawn and Landscape, we typically only use segmental retaining wall units. Segmental retaining wall units are very versatile. They can be used for anything from short landscape bed walls to tall walls with a building on the top. They can also be built straight or with curves.
If you have a severely sloped yard, retaining wall terraces can be built to add usable spaces. A seating wall on your patio is a popular retaining wall idea that adds a lot of extra seating; perfect for parties. Some retaining walls can incorporate steps.
SEEK A PROFESSIONAL'S HELP
There are many factors that need to be considered when designing a retaining wall. How tall is the wall? What will be on top of the wall? What is the terrain that the wall is going to be built on? What blocks will be used? This and many other factors will determine how a professional will design your retaining wall. A properly designed retaining wall will have a footer, some blocks embedded in the ground, geo-grid reinforcement, drainage pipes, & caps. Always consult a professional when building a retaining wall over one foot tall.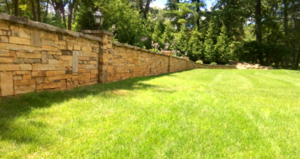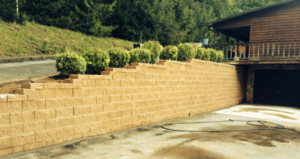 Key Benefits of the Service
Here are just some of the benefits you will take advantage of by allowing us to perform this service:
 Level your yard
 Provide usable space in a normally unusable area
 Provide great aesthetic appeal